Need a great cheese app for your iPhone or iPad?

The Fromage app is an excellent guide for cheeses made throughout the world.

A "must have" for all connoisseurs of fine foods.

Each cheese entry features artistically presented cheese photos, historically narrated flavor descriptions, and suggested best choices for complementary wines.

You can add your own cheeses to the standard library and attach personal notes about any of the cheeses.



If you're a classically trained chef, professional party planner, cheese buyer, or just plain cheese lover, grab Fromage, your favorite wine, and experience the wonderful and historic flavors of cheese.




_________________________________





Fromage comes with the ability to create personal cheese notes, rate cheeses from 1 to 5 stars (included an "Avoid" rating), add cheeses to your favorite lists (Try, Buy, or Favorites categories), record tasting impressions with up to 70 tasting keywords, and search the cheese library.



You can also enter your own cheeses (including photos captured from your device camera) and list those cheeses automatically in the "My Additions" category.

There is also a "Share" feature so cheeses can be sent (via e-mail) to friends or to the developer for inclusion (see copyright note below) in future versions of Fromage.


_________________________________



Internet or Wi-Fi connection is not required for program use (great for remote locations or when no data plan is in use).

An iCloud account is required to sync cheese information between devices.



Cheese library with permission from:



·

CheeseSupply.com


·

igourmet.com


·

Spanish Institute for Foreign Trade (ICEX)





The application supports English, French, Spanish, and German languages when the iOS device settings are set to that language.





Note: The developer of Fromage reserves the right to remove or reject submitted cheese information that is copyright protected.





WHAT'S NEW IN THIS VERSION:


Sync cheeses and notes through iCloud to all your iOS Devices.

View new cheeses submitted by cheese lovers throughout the world.

Utilize new categories in your favorites' listing (1 through 5 stars and "Avoid") to help rate your cheese tastings.

Enjoy higher resolution cheese images and crisper iOS screens and controls.

Use your device camera to directly capture cheese images.

Use and view Fromage cheeses in English, French, Spanish, and German languages.

Enjoy!


For purchase at the iTunes store, see: iTunes-Fromage
For application support contact:
Steve Welch at fromage@databaseconstructs.com


Users Guide For the iPhone and iPod Touch


The search capability allows finding cheeses matching any portion of the search string, in this example "asiago". Touching on the cheese then displays the cheese details. The "+" button, allows you to add your own cheeses to the library.

The favorites screen shows the categories "Favorites, Buy, Try and My Additions (and the star ratings 1-5 and 'Avoid')" that help you rate your favorite cheeses. All of the other lists show the cheeses grouped as indicated (e.g., by Milk Type >> "Cow", "Goat", etc.) Quick scrolling between groupings can be done by moving your finger up and down along the right edge of the screen.



The cheese details include wine pairings and the cheese description. The button "Notes" allows you to enter your personal notes, set your star rating, and include in your favorites list category. The button "Share" allows you to send an e-mail of the cheese description to a friend.
Cheese notes include notes, keywords selected from a list of 70 tasting keywords, tasting location and date, and location found and price.
If the standard library does not have your favorite cheese, just add it to the library. Certain fields are required before you can save the cheese, these fields are: 1) Name, 2) Country, 3) Milk Type, and 4) Texture. The other fields are optional. You can also add a cheese picture from your iPhoto library or from your device camera. Afterwards, you can share your cheese entry with a friend or send it to fromage@databaseconstructs.com for inclusion in a future release.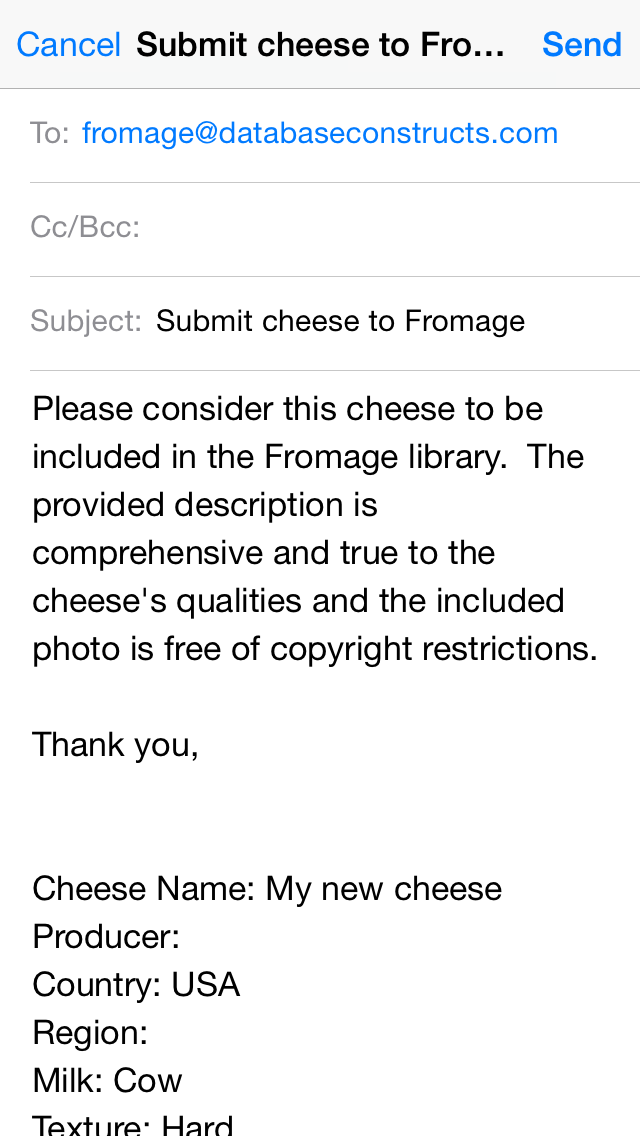 Fromage also has a few preferences that you can set. You can access them by selecting the "Settings" application as provided by Apple.




Users Guide For the iPad
For the iPad, there is more screen area to show both the lists and the details of the cheese selected. The lists on the left side of the screen work identically to the iPhone version. When a cheese is selected, the details of the cheese are shown on the right side of the screen.



Notes may be added in a similar way as what works for the iPhone. The notes entry screen pops up in its own window.
And, adding cheeses is done by touching the plus sign above the cheese listing.